S.Blatter'd
Frankly very little that can be said in a positive sense about the man other than he will be stepping down in 2015 (if not sooner).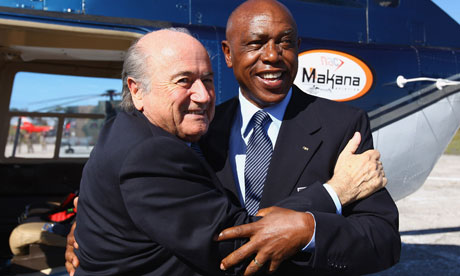 It was interesting that in order to mitigate the damage done by his outrageous comments and show him in a favourable light he was shown with Tokyo-Sexwale This was very selective choice of photograph indeed ..... There were so many other's which could have been chosen for example
Blatter: "Mr President, I would be pleased to offer you the position of Ball Boy should you be available after November 2012 ... for a small consideration"
Actually I prefer the alternative caption: Blatter: "You will need bigger balls than you've got to deal with Ahmadinejad !"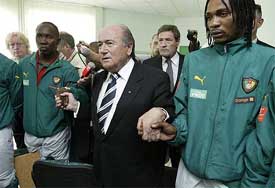 Player on Blatter's left: " Will I ever be able to wash the stink of corruption from my hand ?
Player on Blatter's right: "I am going to be sick!!"
Prematch Briefing: Blatter: "Look them in the eyes ...shake hands ... and if they don't appear sincere ... give 'em a swift kick in the nuts"
Mugabe and Blatter agree time sharing deal for "Mugabe's" Hong Kong property: Blatter: " so I slip you the cash in the usual brown bag and then I collect the keys from Cutburt ?? "
On womens fooball :Blatter: " whats matter? There's nothing wrong with their shorts!!
Blatter: Come on , let shake on it ...and have a fair fight ..."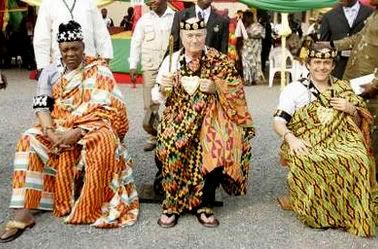 Blatter: "we'll keep this quiet.... unless I need to prove my non racist cred's" Platini: "yes.. bwana"
Hayatou " Listen, If you don't shake my hand and let bygones be bygones ....I swear I am going to kiss you !!"
Blatter: OK Horace while I shake Jack's hand, you stick the knife in deep.. Tonight he sleeps with the fishes " : "
Please God; just one lighting bolt !"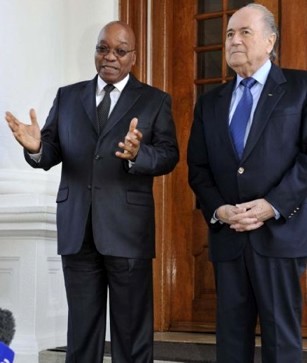 Zuma: I was just saying to my friend Sepp.. we have a lot in common. ... I too, was accused of corruption ...:
In Liberia with ex President Charles Taylor: Blatter: "Sir may I present you with this medal for your recruitment efforts to the national U 15 squad ...."
There's no racism in football honest...look I'm sitting next to a black man"
Blatter: Trust me I can stick my head up my arse ..so this won't be a problem!!"
|