My mum regularly took me, when I was a sprog, to museums. It was part of my education like visiting the library or watching "the changing of the guards".( FYI I once got my head stuck in the railings at Buck House!!). My son's, the Jannitor and the Hobo, unfortunately didn't get the same opportunity to savour soggy tinned salmon and cucumber sandwiches which, as I remember,. were a stable on such visits. We lived in places like Stevenage (twinned with Chernobyl), Weston-s-Mare, and Melbourne, all of which are a long way from the museums in Kensington and Holborn....and my daughter... well that's another story....
I am doing a bit better these days with Jamie. An annual museum pass for the family helps, giving access to both museums and special exhibitions.(extraordinary value!!)
It may be a coincidence, or because one museum is like another, or just a consequence of colonial history but I find the museums here in Hong Kong strikingly similar to those in London. These are ones we have visited recently.......
Location
Museum Pass
Excellent museum for kids... In fact it's difficult to find a time when you are not knee deep in them .(FYI 10-11am Xmass Eve is the exception) They even bus them across the border from mainland China !! .
Jamie particularly likes taking a drive in the racing car and the Toyota(?) (Energy Efficiency Centre and Transportation exhibits), He also likes the "kitchen" (Home Technology) which he is allowed into unlike the one at home and the "bones"(Life Sciences). particularly the human ones . I personally like the World of Mirrors. See slide show.
Location
Museum Pass
This is opposite the Science Museum and tells the story of Hong Kong from 400 million years ago up to it's recent political return to China. There are numerous folk culture exhibits covering the 4 main ethnic groups of Hong Kong.
Jamie likes the Fishing Junk probably because we regularly watch the sampans in Aberdeen harbour There are also three giant effigies relating to the Taiping Qingjiao festival which Jamie confessed to be scared of . We had a counselling session involving getting him to shout boo at them. The effigies weren't upset but the guards sure got excited !!. Afterwards to reinforce the lesson I also took him to a local temple and showed him similar but smaller effigies . We nearly got slung out when he boo'd these as well. So the lesson 2 was about how to boo "quietly".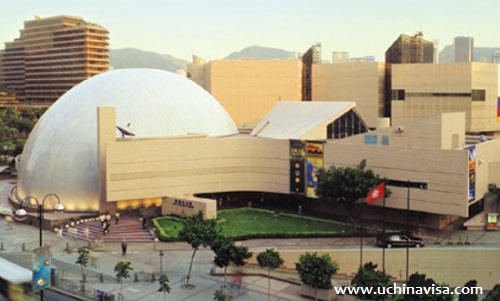 Location
Museum Pass
Although much smaller than Science Museum it nevertheless has 59 permanent exhibits many of which are interactive What makes it particularly interesting is that some relate to the Chinese Space Program. China actually has an active and ambitious one including a plan to send men back to the moon .... I remember watching Neil Armstrong making his mark live (well apart from the radio transmission lag) . The museum is also attached to an ONMIMAX theatre which shows educational 3D programs about space; the oceans, the deserts, dinosaurs etc. so the trick is to see a show AND do the museum.
Location
Free
Like most small boys Jamie has a thing about the emergency services (police, fire and ambulance) At weekends when we go for breakfast we often stop on the way at our neighbourhood fire station to check out the Engines and when we walk down by Aberdeen Harbour he can pick out the fire boat. The Alexander Grantham Exhibition is pure catsnip to him.
The exhibition is in Quarry Bay Park which is ... ok ... (actually when the trees are in flower it's rather spectacular) Nearby is City Plaza at Tai Koo Shing, which has excellent shops , restaurants, a cinema and skating ring .
Location
Free
In the pantheon of little boys' dreams Railway Engines (Thomas lookalikes) vie for honours with Emergency Vehicles. This museum in Tai Po Market is just around the corner to a Fire Station so the holy grail of visits is to visit the the railway museum when there is an open day at the Fire Station (in February apparently) and do both at same time . We have visited the Transport Museum in London which although it has a more comprehensive range of vehicles ,not only trains but also trams, busses and taxis, just fails to match Tai Po where you can take a leisurely stroll in the sun down the railway lines to the item
It's also worth having a stroll around Tai Po Market with its' Man Mo temple.
Location
Free
This little gem of a museum, located in Kowloon Park is housed in 2 blocks from the former Whitfield Barracks. It has a rich permanent exhibition of things Hong Kong and currently an thematic exhibition on "Bamboo Theatre". (Patrick would like this - he was very impressed with the local use of bamboo scaffolding half way up towerblocks.
Kowloon Park also contains, up near the MTR and the Mosque, the Health Education Exhibition and Resource Centre run by the Food and Environmental Hygiene Department. (We haven't been there yet but I am sure it's a blast. What else would you expect from the guys who brought you the "HAWKER PATROLS".) The park which is Kowloon's equivalent to Victoria Park on Hong Kong Island is in my opinion more interesting .It has amongst other things a Maze and a Statue garden . It used to have an aviary but we couldn't find it May have been a victim of H5N1.
Location
Museum Pass
Although billed as being in Shatin the closest station is actually Che Kung Temple on the Ma On Shan line . This museum which is vast , is worth a visit if for no other reason than the excellent collection in the TT Tsui Gallery of Chinese Art . This was relocated fro elsewhere in Hong Kong . I also enjoy the The New Territories Hall with all its good stuff on Clans, family trees etc and the Cantonese Opera Hall is facinating ( I plan on going to Foshan as a result) The museum also has seversal thematic exhibition of which Fashion Visionaries - collection of frocks and the like - is a blast - reminded me of the Victoria and Albert.
The other thing that impressed me was the cyclists. Shatin is obviously the cycle city of Hong Kong with busy cycle paths. Had to explain what tandems were to Jamie The only down side to the museum was the cafeteria was being renovated and when I sat down on the steps an attendant plucked up her nerve and after consulting a colleague "moved" me on - still she was very pleasant about it.
Location
Museum Pass
Located in the Lei Yun Mun Fort this is another must for children. Exhibits include military vehicles (a light tank , armoured car, scout car and some artillary pieces) as well as a range of cannons from 1860's . The galleries are in the old Redoubt and there are excellent dioramas showing East India Company soldiers overrunning Chinese troops prior to the infamous Treaty of Nanking. There were also 2 thematic exhibitions both related to WW2 . The first was a tribute to the Canadian Soldiers who tried to defend Hong Kong against the Japanese and the second about the 68 British and Chinese officers and men who on Christmas day 1941 as Hong Kong surrendered broke out and escaped via Ap Lei Chau to the mainland where aided by Chinese guerrillas they walked for 4 days through Japanese held territory to Waichow before traveling on via Burma and India to England.
Visitors may "notice" a fortress next door at 39 TAM KUNG TEMPLE ROAD with steel doors that would not be out of place on nuclear bunker, a conspicuous absence of windows on lower floors (street view) and a positive surfeit of security cameras. Curious we asked an attendant what the building next door was -"its a warehouse". Oh so.... what she didn't realise was that we had seen an armoured security van roll through the steel doors which were guarded by security man with a radio . An internet search indicates that it has something to do with the Bank of China possibly Credit Card Clearing ? Frankly it seems a bit excessive for a secure computing facility and more like a Gold Depository (which apparently is out by the airport). I checked (briefly) and the building which is not marked on Google or Government maps doe not have any name publicly associated with the address or Lot (SIL 828) on the Land Registry.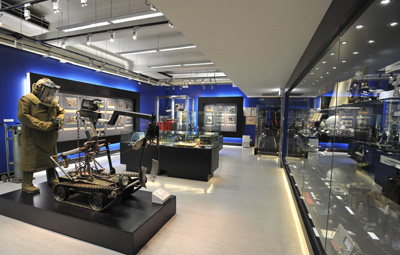 Location
Not all museums in HK are run by the Leisure and Cultural Services Department.The Police manage their own. It has a very local , Triads and Narcotics Gallery and a Heroin Kitchen. Personally I dound the counterfeiting display more interesting (pamphlet)Take a taxi there, have a coffee in the park next door, then either walk down to Wanchai or Aberdeen for lunch or tea.
Location
HK$20.00
Another non LCSD museum in this case is funded by Hong Kong's international shipping community. The highlight of the displays is the bridge of a modern Container vessel (?) from which you can "conn" the vessel into/out of Hong Kong. The museum is in Murray House at Stanley so there is plenty to see outside and lots of places to eat.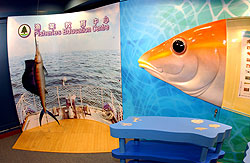 Location
This tiny facility is run by the Agriculture,Fisheries and Conservation Department .It is intended as an education facility for Schools but since it's on our doorstep we couldn't not go ....and they take walk ins on Saturdays!! And after you have been and seen, you should go for a fresh fish meal in Aberdeen to support the Fishing industry !!!
Location
Come to Hong Kong and not visit the Racing Museum in Happy Valley ??.... ARE YOU TOTALLY OUT OF YOUR BOX !! .Afterwards you can retire over the road to the Derby Pub and have a pint and a German Ham Knuckle (trust me!!)
---
The following Museums are on our "to do" list. Some like the Tea Museum and the Hong Kong Museum of Art we have have visited previously but not recently . Others like the Dr Sun Yat sen Museum I am ashamed to say I have never visited (especially the later since last year was the anniversary of the 1911 Chinese Revolution which overthrew the Qing Dynasty )
It appears that we will be very busy over the next few weekends (and I am sure this list will evolve as we discover more museums/exhibitions to visit - little boys are SO DEMANDING !!).....
Labels: Museums
|