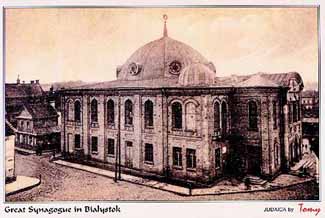 Middleburgh's: The Immigrants
revised 11 august 2006
Patrick once asked me what I knew of my grandparents (as opposed to my father's siblings) and the answer is not very much:
Sometime during 1894(?) my paternal grandfather,Maxwell Joseph Middleburgh, his wife,her sister and at least 2 brothers(one with family) arrived in Glascow (?) from Bialostok (?) which was then part of Tsarist Russia. For some reason I thought that they came from Warsaw but mum thinks otherwise; Apparently when grandmother and her sister argued one would suggest that the other "go back to Bialostok!!" We are not sure whether this is an expression like "being sent to Coventry" or "back of Burke" etc or whether it's an actual reference to where they came from ??
Many Russian Jews made their way to the European coast in order to find a boat to US. Some sailed directly from a ports such as Bremen or Hamburg, others crossed to Scotland or the east coast to transship via Liverpool,Cork,Belfast and other UK ports to US or more typically to Canada, from where they could walk across into the US.
I was told that my grandmother was 16 and pregnant when she arrived. Her maiden name was Natalia Karpenkopf (also known as Nellie) and her sister Bertha (who married Harry and had a daughter Vicky (Pizer). Their family were milliners(?) and after WW2 she returned to Poland to look for family survivors and/or claim property. Needless to say none/nothing survived the holocaust.I came across a Holocaust site on the web listing survivors including a couple Karpenkopfs (from Warsaw??) It did occur to me that when Grandmother went back looking just after war she may not have got access to records which are now available.
Details of immigrants from european ports to UK were not officially recorded at turn of last century and most shipping company records if kept; were lost or destroyed in WW2. The UK Board of Trade however holds records of intercontinental passengers traveling to/from or via UK for that period. Since one of my grandfathers brothers and family completed the journey to the US futher details may exist about where the Middleburghs came in those records.I have a vague memory of my father's cousin Maurice middleburgh and his wife Ada visiting us in London when I was a child. According to US records he was born in Poland 1984 October 1894 (SSN 569-46-9147) According to US records we appear to have a slew of cousins in California; Arizona
I am not sure why the rest of the family did not complete the onward journey to the US (I assume they were simply too poor) In the event they all moved down to London (Whitechapel/Mile End).I think life must have been very hard for them: Grandmother had a child every year for 14 years (including a baby that died). They lived as a "distributed" family all over the East End. Basically my grandparents and the daughters lived in one rented flat; the younger boys lived in rented rooms elsewhere and elder boys lodged out … As a family they came together in the evening for meals before going home to sleep.Eventually Grandfather committed suicide by sticking his head in gas oven; He was found by my uncle Jack and is buried in Enfield Jewish cemetery. My father who was the second youngest didn't talk about him.
There may be records held by one of the synagogues or other jewish organisations in Scotland or London which contains further information about them but I have not had opportunity to investigate. Nor have I had opportunity to check out my grandparents naturalization papers at Kew (assuming they were naturalised before 1906) nor my Uncle Charles' birth certificate (which would identify when he was born narrow down the date of my grandparents arrival in UK) I believe he was aged 23 when he died 02 December 1917 which means that my grandparents probably arrived in UK in 1894 but after cousin Maurice was born
I am not quite sure why or how but it seems that after coming to London the brothers drifted apart, It was only when I started to research that I discovered this branch of the clan. Ironically we were close neighbours; One of these cousins was the labour councillor for Goodmayes, Redbridge and my mother remembers meeting a "cousin" when we lived in Wanstead who worked locally for an insurance company. In fact there are a LOT of local (and not so local) Middleburgh's that I don't personally know who may be close or distant cousins. The clan clearly grows.
There is even an Irish connection that nothing to do with me dating back to the Spanish Civil War Toby Middleburgh (married name) nee Levitas, had a brother, Maurice who fought inthe Spanish civil war. The Levitas family also originated in Tsarist Russia. They settled in Dublin and later moved first to Glascow and then Whitechapel,London. There is an interesting article by Manus O'Riordan who is the Research Officer of the Irish Transport and General Workers' Union where he quotes both Maurice and Toby on their family history.(search within page for "Toby')
|