The Shipping News
On 18 February we woke up in Ap Lei Chau to a symphony of ship's horns. The fog had come back. By 10 am all ship movements within earshot seemed to have stopped. At 8 am a catamaran from town had ploughed into a chinese cargo ship off of Tsing Yi and
97 people were injured
. To the east of Hong kong Island there was another collision and 2 crew members were pitched into the sea but were otherwise uninjured.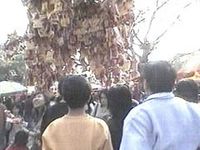 They were more fortunate however that the elderly gentleman and young child who on 15 Feberuary got hit when the main branch of thefamous wishing tree in Tai Po obeyed the law of gravity and dropped on them. The implications for the local community and those who had wishes on that particular branch is of course an ongoing matter of local concern.
On the plus side it was a further opportunity for Australian specialists (nationality mentioned in another local paper) to come to the aid of the ex colony . Tree doctors from down under who inspected the afore mentioned tree pointed out that the the tree simply isn't getting enough water: Nothing to do with the drought in Hong Kong : just that the local authority has concreted around the tree and the soil has been compacted by the sheer volume of "wishers" to the point where it's inpermiable.
The previous instance of Ozzy assistance relates to the Yuen Long crocodile aka Gucci aka Chan Chan. In fact CC was detained by a chinese team who thus upheld national honour, and the croc is now off hunger strike and is under house arrest in New Territories.
It is said that misfortune arrives in threes, and the the new year trinity was perhaps completed by the discovery of breeding culex mosquitos in town. Apparently no one realised they can breed in the winter and the significance is.... that this type of mosquito is the vector for Japanese Encephalitus of which we had a minor outbreak this summer In fact a guy in the block of flats next door was the the first case in Hong Kong Island in 10 years. It does not bode well especially as we occasionally see Tiger mosquitoes (which are the vector for dengue fever - which also kills). A singaporean colleague of mine however told me that there are 2000 cases a year of dengue fever in singapore and last year they had 2 people hosplitalised out of same team in our office there. This is the governement mosi-trap outside the block of flats used to find out how many and what type of mosi's we have locally
Although the Culex is a vector for JE virus you need infected pigs as the "resevoir". At this time of year the only pigs in town are roast suckling pigs. I haven't seen it previously but this year all the chinese sales staff in the office excitedly queued up to get a piece of new year pig which was being hacked off a couple of caracuses in the lift lobby. (Definately a cultural experience)
In the same context of total cultural immersion I went and found myself some chinese lions to see off the evil spirits:
|